LitReactor Community Spotlight: Chris Lewis Carter
Chris Lewis Carter (aka TomorrowHill in the community) is possibly least known for his most prestigious title – that of War King. He won the crown last year after participating in – and subsequently wiping the floor with a lot of very talented writers (such as myself) – The (Un)Official LitReactor tournament known as WAR2 (Electric Boogaloo).
WAR II was a blast. I'm a sucker for any competition that involves a bracket, and since I've probably missed my window to take part in the NCAA, this seemed like the next logical step.

I figured, okay, even if I completely tank, I'll still have fun, not to mention two new short stories to shop around. But then I found myself creeping into the top 16, top 8, top 4... until I started thinking, hey, I might actually have a shot at this thing. I ended up with a record of 8-1. The crazy part is that my loss happened about half-way through the tournament at the hands of the amazing leah_beth, and I clawed back out of the losers bracket (lovingly referred to as "The Pit") to face her again in the finals.
One of the best parts of War was the plethora of diverse and well-written stories you were able to read every couple of weeks. All stories were prompt-based and the prompts got trickier as the competition progressed. It should be noted here that the prompts were all either written or selected by yours truly. And, like any administrator, I relished making the participants squirm.
I remember my first (prompt) was: "Your character gets cosmetic surgery in an attempt to make her boyfriend love her more." And they only got crazier from there. I had the Tori Amos song, Icicle, a picture of what looked to be computer-generated piranhas, and one of those redubbed G.I. Joe PSAs. "PORKCHOP SANDWICHES!" My favorite, though, came in round two, which was simply, "Our Hero is a Liar." In fact, a couple months later I was asked to teach a short story workshop at a local high school, and I decided to hold my own mini-WAR with grades 7-9. I let each person choose from one of three prompts, and one of the choices was "Our Hero is a Liar."

My story from that first prompt, Thin-Skinned, went on to be published at ManArchy Magazine.
After that amazing accomplishment, what more could a writer aspire to?
On the opposite end of the spectrum, one of my other major projects over the past year or so has been Camp Myth, a young adult series about a summer camp built exclusively for young mythological creatures. The idea was basically a mash-up of some of my favorite childhood memories.

Growing up, I was a member of the Cub Scouts, and I remember that my favorite part, by far, was earning merit badges. You'd get them for completing certain tasks, like going bird watching in the woods, or making sure your cat doesn't die for a month - stuff like that. I was also super-big into fantasy and mythology, so one day I thought, why not combine the two ideas? What if all of the mythic races of the world - Minotaurs, Kitsune, Leprechauns, Cyclopes, Redcaps, etc. - sent their kids to camp for the summer, only instead of earning normal merit badges, they'd have to do crazy things like go Phoenix Watching, or raise a baby Hydra?"
Oh. He writes amazingly creative and awesome YA fiction. Yes, I suppose that's pretty cool as well. It's no Microsoft Paint crown, but it is something.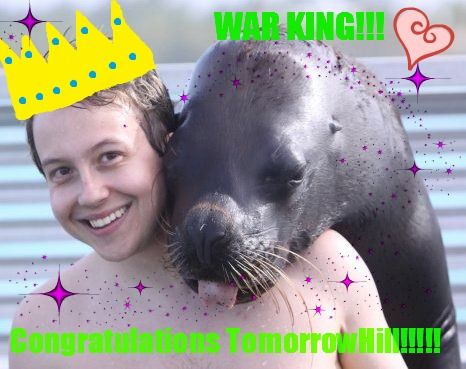 Chris worked endlessly to make the world of Camp Myth come alive and it has a lot of really cool features you can enjoy. He created a Kickstarter for the project which helped him develop his fan base and get tons of interaction.
I thought it could be a great way to build a sense of community around Camp Myth, and at the same time plug myself directly into the loop.

So even though there was a main storyline, I encouraged backers to design their own mythic "campers" who were also enrolled in the camp. Some of those characters were illustrated between chapters, featured in a bonus short story, or were guaranteed to be featured on the cover of the second Camp Myth book. The campaign for Camp Myth: Phoenix Watching ended up raising over six thousand dollars and, while it was a ton of work, it was also an amazing experience. I met a bunch of awesome people, and had campers created by backers across four continents. And everyone seemed to enjoy the book, which was great.
Starting September 25th, the entire book is set to be released as a weekly audio novel with a full voice cast on the Cast of Wonders Podcast. You can check out a sneak peek of the book's bonus story, "Snakes and Campers," which features seven backer created campers. It even has a theme song!
The campaign also inspired a few other Camp Myth-related things, including an iOS Visual Novel App (search for Camp Myth on the app store - it's free!) and a tabletop RPG, which came about because Chris was contacted by the owner of Third Eye Games to see if he'd be interested in converting the setting into a role playing game.
I also just wrapped up a successful campaign for the next book is the series, Kraken Fishing, and I'm in the process of corresponding with backers who are designing characters. At the risk of sounding biased, there are going to be some AMAZING illustrations in this book. I have some of the most creative backers in the world, and the concepts I've received so far are fantastic. Watching artwork roll in is just as exciting for me as it is for anyone. It's like part of the world has a life of its own that naturally forms around the story, and that never stops feeling incredible.
What else can we look forward to in the life and times of Chris Carter?
About a year ago I was approached by an indie producer who was interested in working with me to turn one of my stories, Kill Screen (which was originally written in the first run of Jack Ketchum's Talking Scars workshop), into a screenplay. And, while I don't have anything concrete to announce yet, I will say that the next few months just might include an update on that front. (That said, it might be shelved for another three lifetimes. Who can say, right?)
So much excitement! Be sure to check out all the links for easy access to the world of Camp Myth, Chris Lewis Carter, and also some strange writing prompts. The Camp Myth website is full of so much cool stuff to check out, I promise it will suck time from your day. But it does not suck.