LitReactor Community Spotlight: June 2014
June has been a hot month here. Seriously, I'm sitting here in my leopard-print autographed underwear writing this, because the air conditioner in my car doesn't work, and I just drove home. And I can't find my coffee mug. I think it melted.
But it's also been a hot month in the more figurative sense as well. You already know what I'm talking about, right? Arrest Us! launched at the beginning of June, and the showing has been amazing. I wrote an entire thing about it here. Even if you're too late to get a story in, stick around for the reviewing process. This thing is only halfway cooked.
In the Forums
Looking for a fight?
Even though we've had a lot of activity and attention directed toward our event, the community's bloodlust couldn't be contained, so they created their own one-on-one competition and held a few public matches. If you're itching for a fight, check out the Beyond Thunderdome thread. Challenge someone (you may have to PM them as well to make sure they see it), set up the rules, and start writing. Generally, a new thread is created once both participants are ready, and they post their stories, which are then voted on by the community. Whoever gets the higher rating gets the bragging rights, and the loser probably has to call themselves "Sir Penis" for the day or something.
Book Club
We've been revamping several aspects of the site over the last couple of months in order to try to make everything as user-friendly as possible. One of our resident wisemen, Richard, is looking for some feedback on enhancing the book club experience. Going to a random book club can be a hit or miss experience, since you don't know the people or what they like to read. But here at LitReactor, you're going to be in safe hands, and are going to get to read some awesome authors, many of whom trained here and are even around to participate in the discussion. If you want to try to catch the July action, the book will be Toxicity, authored by none other than our own Max Booth III.
Profiling Your Characters
This thread caught my attention, because it goes after a problem I still struggle with, one I'm sure many other authors do too. Inexperienced writers tend to treat their characters like broken marionettes, nothing more than placeholders that are drug through the story and all of its hiccups in order to reach the end. Breathing life into those personalities takes some practice, and perhaps a trick or two. Does creating a character profile work for you? Give us your thoughts here.
Word Processors
I've talked before about my preference for handwriting stories. It's the only way I can keep my neurotic self from spending years editing the first chapter without ever writing the second. But since we aren't 12th century monks, all that writing eventually has to end up in electronic format for editing and publishing. I use Microsoft Word, and I assumed that many others did too, until I read this thread. Now I see there might be some better options. What do you think? Join the discussion.
Community Spotlight
Every month, I will compile a list of those who sent me their accomplishments through the form submission page and post the results. If you want in, then do something amazing and tell me about it. You get the free publicity, and I get to brag about how awesome our community members are. The order of the list is decided by which submissions I get first, so get on it!
Audiobook Release of "Major Inversions," by Gordon Highland
Hey guys, have you heard of this newfangled technology called digital sound? Apparently, it lets you read books with your ears! Gordon Highland, author and one of LitReactor's revered Bald Guys, has harnessed the awesome power of sound and blasted it into his 2009 debut novel Major Inversions. The 7.5 hour audiobook works well with the first-person perspective of the novel, and Gordon seems to have a talent for the surprisingly difficult art of reading to the audience. You can check out a sample as well as the non-Amazon vendors at his website.
Gordon Highland is the author of the novels Flashover and Major Inversions, plus a collection of stories and verse titled Submission Windows. He's a veteran of many bands and musical projects, and pays the rent as a full time video director/editor.
A Whole Bunch 'o Stuff from Doug Black
Most o
f you guys know Doug Black as that guy who looks shockingly like a young Sean Connery whenever he's holding a Walther PPK. You're about to know him as the guy who has been really, really busy blasting short stories off to every corner of the galaxy (and there are a lot of corners out there). Check it out. His story "Take the Flay Train" will be in the Ares volume of Pantheon, "Zero Sum Game" just premiered in Plan B Magazine's yearly anthology, "das Requiem" (conceived in Richard Thomas's short story class) is upcoming in Bete Noir, and "Hell to Pay" is upcoming in James Ward Kirk's Demonic Possession anthology. Holy crap, I had to buy more Internet just to get all that to fit. And where did he say he crafted and perfected all these stories? Why, in LitReactor classes and workshop sessions, my good fellow/fellowette!
Doug Black is about to move to Dallas to take up a job in the banking industry. Hobbies include writing, the visual arts, and watching spaghetti westerns. Doug is also working on his first novel, a horror/thriller set in Civil War-era West Virginia.
"Chimera" by Christopher Shultz
Chris is one of LitReactor's top columnists, helping you to keep up with the surprisingly fast-moving world of literature. Of course, that doesn't stop him from finding time to do his own writing, such as his poem "Chimera" which recently found a home in Smashed Cat Magazine, and oh my, the title of that magazine makes me sad. Anywho, back in the days before the Flash Fiction Smackdown, there was Short Shorts, a similar contest in which Chris wrote, "Our flock was dead. We gathered their tithings and split." These words became the first lines of "Chimera", which you can read in its entirety at the Smashed Cat Magazine oh dear I had to write that again. I'm going to go hug my cat for a few hours now.
Christopher Shultz grew up watching old Universal monster movies and reading Stephen King, and he hasn't left the shadows since. His stories have appeared in MicroHorror, the anthology Another 100 Horrors, and, forthcoming, in Smashed Cat Magazine, among other places. He also writes columns and book reviews at LitReactor.com. Christopher lives in Oklahoma City with his lovely partner Lauren and their two mostly well-behaved cats.
"Shadow's Talent" by Tommy Muncie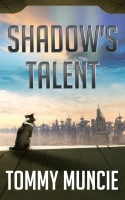 Tommy Muncie goes by the handle Chacron here on LitReactor, and is one of our more active community members. In another success story, he submitted several chapters of his debut novel to our workshop before self-publishing through Smashwords. It's titled Shadow's Talent, and if you're a fan of crime and science fiction, this is one you should definitely check out. From the synopsis:
17 year old Shadow Hatcher witnesses a murder and agrees to record his memories as a witness testimony. Shadow is reunited with Dr. Kit Calloway, who comes from a respected family that has a mind power known as Talent. Kit agrees to help Shadow achieve his dreams of becoming a spacecraft pilot, but uncovers dangerous secrets about Shadow's true identity, Talent, and why the murder Shadow saw took place.
Tommy Muncie has been a member of LitReactor since January 2013, under the name Chacron, and has participated in the Teleport Us and Arrest Us competitions as well as maintaining a healthy presence in the LitReactor workshops. Shadow's Talent is his debut science fiction novel, and part of The Talent Show series he has been working on since 2010. This is his first publishing credit as an indie author.
A Look Toward July
While it's probably not going to get much cooler outside, things will definitely be getting cooler around here. Don't worry, Josh gave me a three strikes rule about weather puns before he fires me, so that'll be the last one.
You wanted a contest, you got a contest. You wanted member spotlights, you got member spotlights. The next big project on my plate is seeing what we can do to get the Featured Workshop Story back up and running. This was a popular feature that only got a few feet off the ground, and its revival has definitely piqued the interest of the higher-ups, so hopefully, I can give you some good news on that front soon.
In the mean time, feel free to add more to my checklist. If there are any ideas that I haven't heard of yet, haven't responded to, or simply might have forgotten about that you would like to see get some consideration, feel free to drop it in the comments or in my thread. I love getting feedback from you guys. It makes me forget about the monsters that hide behind my mirror and steal my medicine.