Literary Death Match
There's readings and then there's readings.
Literary Death Match is the latter. This ain't your daddy's independent bookstore reading or coffee shop open mic. This is the pros, the Coliseum, literature's very own cage fight. It's not just a reading. It's a battle. Most importantly, Literary Death Match is a party. Todd Zuniga, the creator of LDM, breaks it down like this: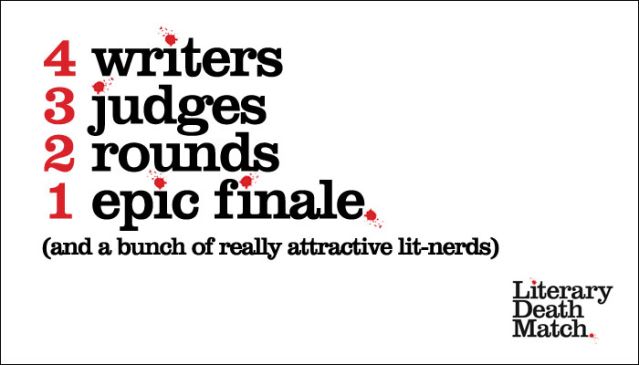 The L.A. Times calls it: "One of the most entertaining reading series ever."
Todd's single-handedly brought back the cool factor of the live reading, always roping in the best local talent. Names like: Craig Clevenger, Cheryl Strayed (hi, Sugar!), Chuck Palahniuk, Roxanne Gay, and Emma Straub. The list (quite literally) goes on and on. LDM is an international series that has been hosted from London to New York to Los Angeles and back again, and the damn thing keeps getting bigger with every pass.
Tonight, I'm proud to say that I'll be serving as one of the judges for the Kansas City leg of this show, so if you're a writer, a reader, or just looking for damn good time--come on out. You won't be disappointed. If you don't live near the 816, not to worry. LDM has more than a few dates coming up which you can check out on their main page. I know a lot of my author brethren will be going to Chicago for AWP, so make sure to check it out.
Words and whiskey shall flow aplenty.