Get Your Kindle 'Signed' With Kindlegraph
This is a neat little invention for authors that we came across. The platform is called Kindlegraph, and it's essentially a way for authors to personalize Kindles without defacing the back of the unit with their John Hancock. This is pretty much perfect for those Kindle-only authors who don't have physical copies available and/or don't have the funds to arrange signings. I can see this being a big hit with that particular crowd.
How it works is that the author puts in a little info, pastes their ISBN number into the appropriate field, and voila--you're in! Readers can click the 'Request Kindlegraph' button beneath your book and you'll be notified via email. By the way, signing up is about as easy and hassle-free as it gets. Only took me a couple minutes to put my own book in there. It's also free.
Of course, there are a couple of drawbacks. Although the inscription is personally from the author, it isn't going to be in their handwriting as they're limited to two fonts: a handwriting font and typewriter. The author can attempt to sign their name in the signature field with their mouse, but it's going to come out a bit wonky because--let's face it, signing your name with a pen and a mouse are two totally different things. Using a tablet would probably yield better results.
This is never going to be a replacement for an actual on-the-page signature by the author. I got my girlfriend a signed copy of Survivor a couple birthdays ago and was amazed at how much care Chuck put into it: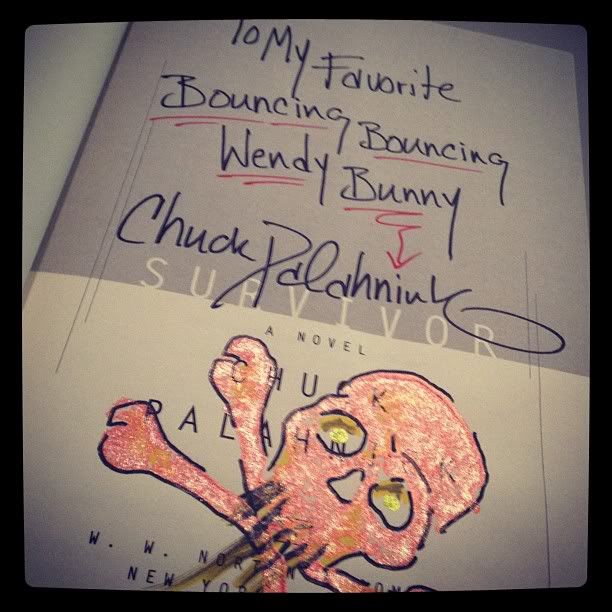 Kindlegraph can't hold a candle to that, however, I can't deny this is a good idea that will only get better as more features are introduced: colors, fonts, and maybe even a way for the author to make a video autograph for tablet users. I'm sure it'll develop as time goes on.
Go HERE to check out the tutorial video.