Authonomy's Release Plans
Anyone else get that email from Authonomy.com this morning? Well, here's what they want you to see, clipped right from the site: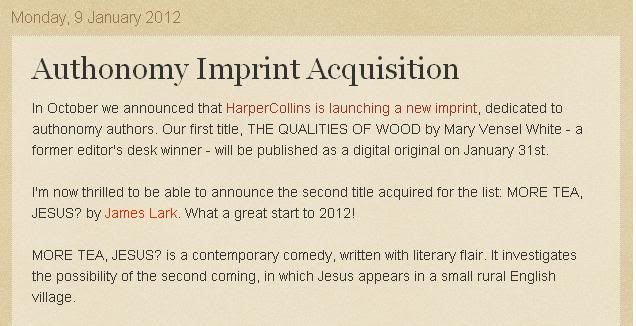 My stance on Autonomy is the same as it was three years ago when I first came across it: not my cup of tea. The quid pro quo of 'you give me a good review and I'll return the favor' seemed highly incestuous and shady. My understanding is they've since made some changes to their ranking and voting system to discourage that, but the whole idea of the site being a networking game as opposed to a writing game still doesn't sit right with me. For those readers who are coming in fresh, the site works as follows: you submit your manuscript, and then through a system of ranking and shelving, attempt to get your manuscript into the Top 5. If you do that, then an editor from HarperCollins will read your work, however, there's absolutely no promises of publication beyond that.
That's more or less the main complaint with Authonomy: the ratio to how many people get read by these editors compared to how many get deals is heavily slanted.
Then there's this, which is also taken right from the site:
These books will be hand-picked by Scott and the Authonomy Editorial Board, worked on by HarperCollins' finest publishing teams, and published as HarperCollins digital originals across all possible devices. The bestselling books will go on to have print editions. Most importantly, all of the titles will have been discovered on the authonomy.com website.
So after all that work these authors are only getting digital versions put out? Yes, granted, they're going to get HarperCollins caliber editing and cover design, but an eReader-only release seems to show little faith in these authors. Let's also not forget that HarperCollins is going to be getting a royalty cut when there are plenty of authors uploading their manuscripts to Amazon on their own.
I have to hand it to Lark and White (the authors): they must be extremely good at marketing themselves to make it into the Top 5, and they must have some talented people working for them considering HarperCollins is going to publish them. But to be offered this digital-only deal seems like a waste when you consider the Amanda Hocking route and how she did everything on her own. Hindsight is 20/20, I know, but with no advance money and no print edition (unless their eVersions sell well), I wonder if Lark and White will kick themselves for not taking their books the traditional route.
Authonomy/HarperCollins needs to start treating their contracted writers like real authors: that means giving them an advance, a print run, and a full marketing push. These writers have already run one gauntlet to get to the editors desk. Why make them run another one?
What do we think LitReactors: does Authonomy need to start offering better deals or would you be happy with this eReader only contract?