Mass Market Paperback Sales Trending Down. Way Down.
Via: Galleycat
Here are the latest numbers from the Association of American Publishers, and if you're in the "print will never die" camp, they aren't very encouraging. From the net sales revenue report for September 2011: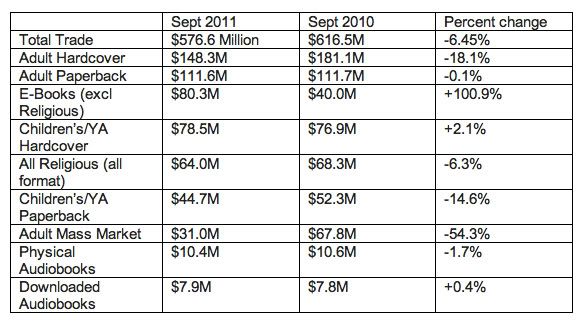 Adult Hardcover and Adult Mass Market obviously took the biggest hits while eBooks doubled their business compared to last year. Audiobooks kept their proverbial graphline flat with only small variances. Overall, the written word is down 40 million, mostly because eBooks cost so much less than physical copies (roughly 20-30% less).
The music industry comes to mind with their shaky transition period from CDs to digital, and there's plenty of buzz going on right now with the pricing structure of eBooks as more and more people acquire Kindles and iPads.
So what do you guys think? Is print going the way of the dodo?
---
Editor's Two Cents:
Hardcovers only down 18%. Compared to Mass Market, that doesn't seem so bad. Might be people who buy more "disposable" book formats, like Mass Market, are more likely to switch over to eBooks, while people who like collecting and owning continue to purchase hardcovers.